Panglao Island Nature Resort
Panglao Island Nature Resort is ideal for weekend getaways, vacation, business conferences or meetings, or simply for a day of sunbathing at the beach. This one-of-a-kind resort features huts with high thatched roofs overlooking the white beaches, deep blue sea and the bluer skies of Bohol. There are conference rooms also, which are definitely the best rooms for business meetings. There is equipment readily available for conference use such as LCD projector, TV monitor, photocopying machine, whiteboard with marker and eraser, and more!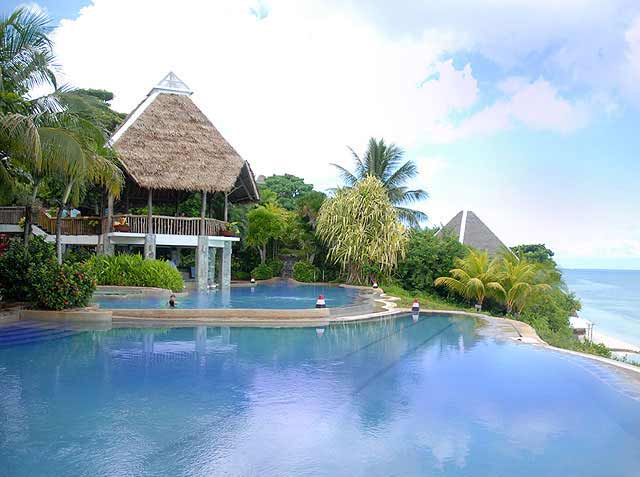 At Panglao Island Nature Resort, you'd never go short of activities to do. You can take a dip at the sea, or if you don't feel like diving into the sea but still would like to swim, take a dip at the pool overlooking the sea. There are indoor games like darts, chess,billiards, and table tennis. Panglao Island Nature Resort also has golf carts for guests who would like to take a little tour around the resort. You can also go snorkeling, diving, or kayaking. You can also go windsurfing and Panglao Island Nature Resort has windsurfing facilities.
The rooms at Panglao Island Nature Resort look as cheery as the sea and the gardens outside it. This is an effect heightened especially by the colors green, orange, and yellow which the rooms are heavy on. Have the comfort and convenience that resort rooms offer. Each room has amenities that include private refrigerator, remote-controlled airconditioned rooms, private bathroom with cold/hot shower, satellite cabled TV, international and national direct dialing lines, hairdryer, and personal café. You can have the sea, the beaches, the quick access to dive sites, the fun, the exquisite food at Panglao Island Nature Price for around $134 or Php 5000.
Official Site: www.panglaoisland.com
Source: www.boholboard.com
Teaser photo source: www.boholander.com
Philippine Trivia